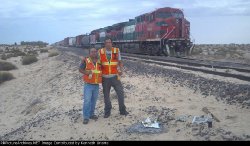 Welcome to the RRPictureArchives.NET contributor site of Kenneth Uriarte.



Hola, my name is Kenneth Uriarte , i love trains since i was about 5 years old , Ive experienced every side of railfaning like modelroading, railroad fotography, train chaser, train rider and also work for the railroad and every time i can i take some pictures of what i have experienced , i hope you enjoy my pics, saludos!



You may browse my collection of pictures via the menu located on the left hand side of the page. I hope you enjoy the collection and thanks for stopping by!
Note: This site is best viewed in Internet Explorer 6.0 or above.
Select one of the links from the menu on the left to begin browsing the collection.